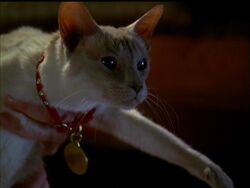 Familiar Grounds is the ninth episode of the fifth season of Charmed.
A warlock hunting familiars causes Kit to return to the manor to ask for help. Not knowing how to identify the threat, the sisters cast a spell to discover the truth. Paige makes a choice between the love of her past and her present.
Main Cast
Guest Starring
Uncredited
Magical Notes
Edit
To Turn a Feline into a Human
Edit
Cast by the Charmed Ones, requires a circle of candles.
Answers is what these sisters seek,
Possessed by one who cannot speak.
To give voice to this familiar guide,
Grant this feline a human hide.
Reversal Spell
Edit
Cast by Phoebe to turn Kit into a cat once more.
With these words, I undo the spell,
Return to form, I wish you well.
Sensing - used by Kimyra to track Familiars and by Kit to track her.
Blinking - used by Kimyra as means of teleportation.
Light Darts - used by Trevor to attack Kimyra.
Agility - used by Kimyra to avoid attacks.
Power Absorption - used by Kimyra through her athame to absorb the powers of Familiars.
Orbing - used by Leo and Paige as means of teleportation.
Premonition - used by Phoebe to get a premonition of Kit.
Levitation - used by Phoebe to kick Kimyra.
Molecular Immobilization - used by Piper to freeze Kimyra.
Adjusting - used by Kimyra to resist being frozen.
Telekinetic Orbing - used by Paige to orb an athame.
Molecular Combustion - used by Piper to accidentally destroy the grandfather clock.
Notes and Trivia
Edit
The title is a reference to Familiars, as this episode marks the return of Kit.
More is explained about the nature and purpose of Familiars.
Piper and Phoebe remember the Source of All Magic, which Eva told them about in the episode "All Halliwell's Eve".
While discussing the importance of Kit, Piper and Phoebe mention events that occurred in "The Painted Word" and "Magic Hour".
Paige is able to orb an athame to Phoebe without vocal command.
Trevor performs a similar blessing ritual to Serena Fredrick in the pilot "Something Wicca This Way Comes".
Paige mentions seeing Kit around her apartment shortly before she met her sisters.