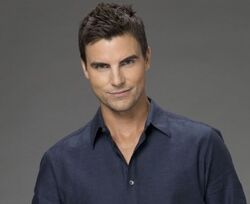 Aaron is a mortal guidance counselor at the police academy in San Francisco.
Aaron noticed Paige Matthews looked a little disoriented at the open day at the academy and offered his help. When Paige told him she was considering joining, he offered to do an aptitude test with her. When Aaron left to get some water during the test, Paige was attacked by Swarm Demons and forced to orb home to her sisters to vanquish them.
When Paige returned to the academy, Aaron was frustrated with her, as he believed she had skipped out on him. Paige convinced him to give her a second chance and Aaron agreed, as he believed she had potential. He noted that he would keep a personal eye on her, to which Paige flirtingly replied that she would hold him to that.
Aaron checked on Paige during her training and asked for a fresh start. Paige asked him if his interest was just professional, to which Aaron replied that anything more would be wrong, as he was her guidance counselor. Although she was disappointed, Paige asked him to be friends.
Appearances
Edit