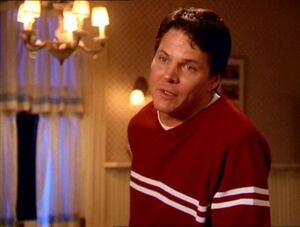 Cupid is an angelic being responsible for bringing destined lovers together.
At some point, Cupid used his magic to draw a mortal woman away from a demon named Drazi so she could marry her destined love. Drazi became determined to destroy love as vengeance.
In 2001, Drazi cornered Cupid and stole his ring, which he then used to rip apart the couples that Cupid had brought togther. Cupid asked the Charmed Ones for help and worked with Phoebe to reunite the couples, including Prue and Piper with their respective boyfriends. While working together, Cupid and Phoebe fell for each other. After Drazi was defeated, they shared a kiss before Cupid left.
In 2003, Cupid confronted one of his fellow Cupids, Eros, who had turned evil and used his magic to twist love into obsession. To stop Eros, Cupid went to the sisters and explained what was happening. Eros followed him to the manor and began manipulating Phoebe, who was doubting her relationship with Derek Grant. After Eros' manipulations exposed Derek as a witch hunter, the sisters defeated Eros by taking his ring.
Cupid brought Eros to the Powers that Be to be punished. He later visted Phoebe, who blamed him for not revealing Derek's secret, because he knew what she went through with Cole. Cupid told Phoebe to not give up hope, though she refused to listen.
Powers and Abilities
Edit
Active Powers
Beaming: The ability to teleport through a pink heart-shaped light.
Sensing: The ability to sense the location of other beings.
Empathy: The ability to sense the emotions of other beings, most notably love.
Temporal Stasis: The ability to slow down time in a limited area.
Suggestion: The ability to plant thoughts and ideas in the minds of others.
Appearances
Edit
Season 6